Contemporary Outdoor Furniture
for Your Patio
Contemporary Outdoor Furniture
A sunny day will be the perfect moment to enjoy doing activities outside your home. One of them is to have a great time with your family and friends in the patio and drink coffee, tea, or beer. The outdoor activities you do will be more complete if you have good quality furniture with great designs. In this modern era, contemporary outdoor furniture is the most popular choice. Besides its beautiful design that can create a refreshing environment for your patio, it is available in various prices. It means that a family with low-budget can still enjoy sitting outside on the outstanding contemporary outdoor furniture. The characteristic of contemporary outdoor furniture is its shape which is not always fixed to the cube or beam. Another thing to notice is the color of the furniture which can be varied.
Where to Get Cheap Contemporary Outdoor Furniture
Contemporary Outdoor Furniture
Being cheap does not mean having low quality. There are many shops that sell contemporary outdoor furniture with cheap prices, yet still get positive reviews and recommendations from the customers. Some companies ship the product directly to the customers which makes the cost a lot cheaper. The recommended places where you can shop for cheap contemporary outdoor furniture are IKEA, Wayfair, Pier 1, World Market, CB2, Overstock, and Target. These are places where a lot of contemporary design products are displayed, so you can see directly for the furniture you want to buy. It is always recommended to go to the shop rather than do online shopping.
Contemporary Outdoor Furniture Maintenance
Tips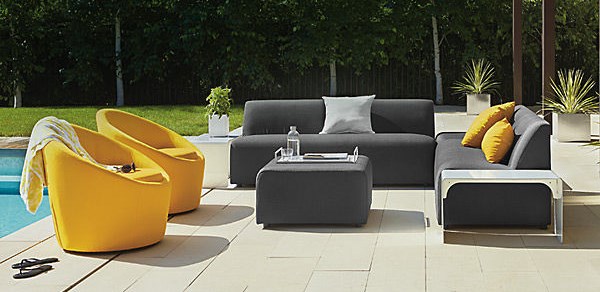 Contemporary Outdoor Furniture
People usually buy outdoor furniture for spring and summer seasons only, which means that the furniture will be kept inside the warehouse during autumn and winter seasons. The key to make these products last as longer as you expect is to give a good maintenance. Even though most outdoor furniture can resist the extremeness of weather, the first recommended thing to do for maintenance is to give covers. Your outdoor furniture also needs regular care such as washing with mild detergent and water. You can use automobile wax to protect the metal frames from ultraviolent exposure and salt air.
Outdoor furniture maintenance needs to be done at least two times every year. For those who live in highly polluted areas, you might consider do the maintenance more frequently. If there are stains on your furniture, you can use rubbing alcohol which is applied with a soft cloth. You might need to apply a quality vinyl protector to avoid damage caused by air pollution, salt air build-up, and mildew.