Painted brick fireplace
Painted brick fireplace
Painted a brick fireplace
is a nice idea to makeover your room. It is simple thing but able to bring different impression to people staying in the room. However, Homeowners often hesitate when it comes to the decision to paint the brick fireplace. The reason can be the result that is permanent that makes you hard and even impossible to remove once it dries, so they cannot have the original color of brick once the colored brick fireplace cannot match well with the room design or they just don't like the result. Moreover, people have belief that let the bricks bring their natural color is great way to create the natural atmosphere in the room. The color of brick matches well with the color of the warm flame. Do you think that colored brick fireplace is not able to bring the great nuance? You need to know some ideas of painted brick fireplace in order blend the color of brick fireplace with the whole design of the room.
Painted brick fireplace
Painted brick fireplace ideas
Once you decide to paint your brick fireplace you need some inspiration to give you more idea about how you colored brick fireplace can bring the result you want. Here are Painted brick fireplace ideas that can you help you to concern about the painted brick fireplace in your room.
1
Neutral color is the safest
I believe you will change color of your room sometime. You don't need to re-do your brick fireplace when you put neutral color on it. White is first color to come if you wish to brighten your room, but it you think it's too bright off-white can be softer. Is black too dark for brick fireplace? Dark brick fire place is appropriate for people who like modern style. Besides those most neutral colors, brown, tan and grey can be alternative shade to apply in any design of your room.
2
Contest color on brick fireplace
Another thing you need to concern when you plan to have painted brick fireplace is where you put the brick and what impression you want to create. If all you need is making the fireplace as the focal point, you should apply contrast color on fireplace against the wall color. When your wall is full colored with cool shade, then play a warm shade on brick fireplace.
3
Hide the fireplace with monochromatic
While most people love to make fireplace a focal point, others try to hide their fireplace from the room. By painting them with the same color as the wall, the fireplace will disappear. It's not that it's removed, but people will focus on something other than fireplace that has been designed as focal point.
4
Brick fireplace with two color shades
If you love painted brick fireplace that love different, you can choose two colors shade to apply on the brick, first color is for the out side, and another for inner. Black can match well with white to create classic look, and you can put some pictures on the wall around the fireplace to give more vintage look. Another option is the different shade of blue that can bring freshness into the room.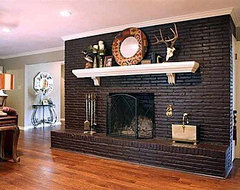 Painted brick fireplace
Those painted brick fireplace ideas will definitely help you to determine the color of brick fireplace that make your dated fireplace looks new and the main point the color will suits well with the overall room design.